Call today for a complimentary 10 minute lower back decompression session!

Back pain due to a herniated or bulging disc can be debilitating, and in the past, surgery was the answer. Today, we have highly­-successful advanced technology that allows us to relieve this pain without surgery. We use a system that combines a machine with an exceptionally precise computer program for a treatment called spinal decompression.
Using this computer technology and the decompression machine, we are able to create a custom treatment plan that decompresses the spine and pulls the herniated or bulging material back into the disc. The computer program is created and supervised by one of our highly trained staff. It gently stretches and relaxes the spine in rotation, which, over time, separates the vertebrae. This creates a vacuum­-like effect that pulls the soft bulging disc material back into the disc. This can not only clear up back pain, but also any pain caused by the pressure put on the nerves. For example, patients who have a herniated disc in the lower back may have shooting sciatic pain down their legs. Relieving the herniated disc will cause that pain to vanish.
Treatment time and frequency will depend on each patient's unique condition; however, each spinal decompression treatment is usually about twenty minutes. Patients usually have treatment a few times a week, and are typically finished with treatment within eight weeks.
If you are living in pain from a herniated or bulging disc, we will work with you to find a spinal decompression treatment plan that corresponds with your body. Instead of turning to dangerous pain medications that just cover up the problem, ask us if spinal decompression can help you.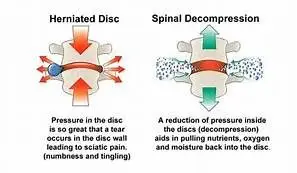 Our Unique approach to Relieving Back Pain and Promoting Spinal Stabilization
Gentle corrective adjustments to balance your spine and soft tissues alleviating pain and speeding up the healing process.
Rehydrate and Decompress your lumbar discs alleviating painful pressure on your spinal nerves and joint sensors with Lordex Decompression and Oxygen Therapy
Specific Spinal Stabilization Exercises for faster pain relief and future injury prevention.
What is Spinal Decompression and does it really work?
Special Offer Below
Chiropractic Spinal Decompression Therapy is a new non-surgical and non-invasive technology known across the world. It was developed by a specialized team of physicians and medical engineers, for the treatment of low back and sciatic pain. Clinically, Spinal Decompression alone has shown to have an excellent success rate.
Chiropractic Spinal Decompression has been proven effective in relieving the pain associated with bulging and herniated discs, degenerative disc disease, sciatica, and even relapses or failed back surgery. Since its release in 2001, clinical studies have revealed an amazing success rate in treating lumbar disc related problems with Spinal Decompression. We focus on herniated and bulging lumbar discs with or without complications, degenerative disc disease, relapse or failure following surgery with single or multiple levels of herniation, facet syndromes, and Sciatica pain. In the past, a patient suffering from disc problems usually was given pain medications, instructed to refrain from physical activities, referred for physical therapy, and when they weren't progressing they were sent for spinal surgery.
Conservative chiropractic care proved very helpful in many cases, yet there have been some cases when surgery seemed to be the only other option - until now.
Today, you don't have to live with that pain anymore. Thanks to the concerted efforts of a team of top physicians and medical engineers, Spinal Decompression was developed to effectively treat lower back pain and sciatica resulting from herniated or deteriorated discs. Spinal Decompression not only significantly reduces back pain in many patients, but also enables the majority of patients to return to more active lifestyles.
How does it work?
Spinal Decompression uses state of the art technology to apply a distraction force to relieve nerve compression often associated with low back pain and sciatica.
How do I get started?
Contact our office to schedule an initial consultation with Dr. Stein to determine if you are a candidate for care with Spinal Decompression. After carefully studying your case history and exam findings, he will sit down and explain his recommended plan of action for you. After answering any questions you may have about the recommended plan, you may begin your care with Spinal Decompression.
Watch the video below to get a good understand of the procedure & how it works.
Special Decompression Offer:
Mention to our staff that you have watched this decompression video and you will receive a Complimentary Consultation with Dr. Stein and if prescribed a 10 minute Lordex Decompression trial to see if you are a candidate for this procedure. Please bring in any MRIs and X-rays to this visit.